My father, Harry William Hooper, was a most decisive man. He was never given to hesitation and when his mind was made up no force on earth could make him deviate from the course he had set. This didn't necessarily make him easy to live with but it did make him a natural leader and, as he was honest, plain-dealing, a good judge of character and fiercely loyal to family and friends, it guided him through life with an unwavering sense of doing the right thing. One of the first things I learned in life was that my father was always right.
When destiny or bad luck stood in his way and blocked his path, he would assess the situation and once satisfied that there was no alternative, adjust his course and stick to it without the slightest trace of regret. That was the way things were and this was what he had to do, so he did it and got on with his life with the same unflinching self-assurance as before. He might be on a different road but he was most definitely still in the driving seat.
As a boy he lived on a succession of farms in the Middlesex area. At his various schools he was always top of the class, but left at fourteen to help on the farm and to work at the local greyhound track. One or two of the farms they lived at were close to airports, notably Heston airport where Chamberlain famously landed waving a piece of paper that Mister Hitler had given him. The young Harry began to take an interest in aircraft, and to dream of flying them.
When war broke out in 1939 he was still only fourteen, but in 1941 he lied about his age and joined the Royal Air Force. His eyesight was not really good enough but he managed to get on a training course to become a pilot. He trained for quite some time in various locations around England, Scotland and Canada, and finally started flying Lancasters for Bomber Command. He was quite a bit younger than all the others, several of whom were married with families, but he had no difficulty putting a crew together, inspiring the trust and respect of men who were putting their lives in his hands. He was the skipper and that was just how he liked it.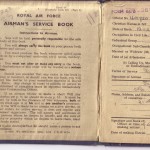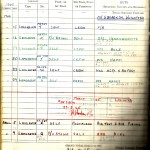 60% of operational airmen in Bomber Command were killed, wounded or taken prisoner and my father was flying at night, bombing industrial targets in Germany, facing enemy flak and risking collision with other aircraft, but he never thought about the danger. He was doing what he thought had to be done, he never harboured any doubts about the rights and wrongs of it, and was convinced he would come through unscathed. And he did. I think he loved every minute of it.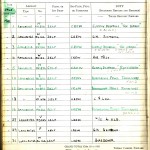 Once the war was won the Lancasters were used to ferry people and provisions around Europe and he visited Germany and Italy. Then his squadron was posted to Egypt and later Palestine. He was demobbed in late 1947. He wanted to continue flying for civil airlines but on the day he got home his younger sister Betty was killed in a horrific road accident. He could have gone abroad to work for an airline but he decided his mother and father needed him close by. He eventually got a job with Quaker Oats. He retained his enthusiasm for flying and aircraft until the day he died, reading everything that was published on the subject, but once he started working for Quaker he never regretted his decision and rose steadily in the hierarchy, eventually becoming a company director.
In those days in the late forties he often used to go out for a drink with a friend from the air force. For a change one night he suggested they get on a bus and go further afield. They got off at Staines and went into a pub where my mother, who would have been about twenty-one at the time, was having a drink with her mother. Legend has it that dad turned to his friend and quipped « I don't fancy yours. » The following night he went back to the same pub on his bike, without his friend, and bought mum a drink. He had made up his mind and never looked back. They were married in 1950 and remained together until mum's death in 2016.
Dad only ever worked for one company and there were basically only three women in his life : his mother Ellen, his wife Beryl and his daughter Elizabeth. He worked hard and Quaker took a lot of his time and energy, but for dad family always came first. Once Elizabeth and I had arrived on the scene, he would religiously take three weeks holiday every summer, spent on a beach in Italy, as well as long weekends at half-term, when he would take us in the car to explore various regions of Great Britain : most often Devon or Cornwall, East Anglia once, and Wales.
When I was ill in late 1979, he would come by the Brompton hospital in London every evening after work, bringing in a hamburger bought nearby because I preferred that to the food the hospital provided. I was sick of the sight of those hamburgers by the end of my stay, and the pain in my legs often made me irritable, but he never took offence. He told me he wanted to take that pain and feel it instead of me, and in a way he did.
My illness, and my mother's, were a key factor in the next turning point in his life, his decision to leave Quaker. Nobody thought he would be able to adjust to a life of leisure but he did. He never looked back. He settled down to the quiet life, cultivating his garden, reading, watching sport on the television, taking the odd trip to Paris or holiday in Spain, and welcoming my kids, his grandchildren, to Hook for long summer days in the pool and in the garden, with occasional trips to the canal to feed the ducks.
He was a man of his time and of his country, and so found it difficult to talk about emotions, but his were nonetheless deeply felt. In our weekly phone conversations we would talk about very little other than the latest soccer scores, but you'd be surprised how much love can be expressed through a football result.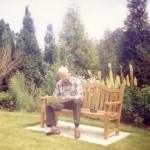 After mum died, I think he began finally to feel the years weighing down on him. Elizabeth was a great help and comfort to him but he missed mum. He told me at Christmas when I was staying with him for the last time : « She was the kindest person I ever knew. » And I think he was right about that too.
So now we are here to say goodbye. I think it would be fair to say, like Marlene Dietrich at the end of that Orson Welles film : « He was some kind of a man ».
And his spirit lives on, in us. I'd like to leave you with a final image of that spirit, striding out onto an airfield to climb into the cockpit of his Lancaster, sitting in the pilot's seat, taking control, and soaring up into the night to meet his beloved Beryl.