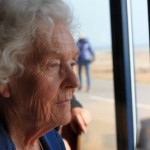 Denise Beryl Hooper, my mother, was a very modest woman. She went about her life quietly, discreetly, and she never liked to make a fuss. She didn't set the world on fire, but I would argue that there are quite enough people doing that already. She actually did something much better than that : she built a home, or a succession of homes, for Dad, myself and my sister Elizabeth.
The first of these homes was Queensmead, a modest wooden bungalow between Staines and Wraysbury with a lawn sloping down to the Thames.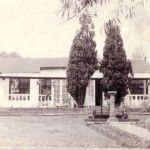 My mother was always drawn to water, she loved the river and the sea, a trait she passed on to me. At the back of this house was a little stream and beyond that a park with a huge lawn and a swimming pool. We lived at Queensmead until I was eight and my memory of it is of endless summer days spent swimming and rowing on the river and fishing for stickleback in the stream.
It was a time of progress and optimism. On little transistor radios echoing through the park you could hear the Beatles telling us that all we need is love and even the England football team actually won something. Swinging London was the centre of the universe. Of course Staines was slightly off centre but that was just how Mum liked it. She brought us up in a backwater that was a safe haven full of sunshine, fun and love.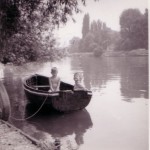 After Queensmead we moved up in the world, to Swinley Birches, a big victorian house in Ascot with a large garden with huge banks of rhododendrons that you could walk through and that were a riot of different colours each May.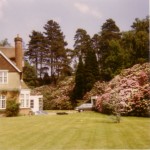 We moved there in the winter of '68-'69 and the house, the rhododendrons and the lawns were all covered in a thick blanket of snow, which seemed to come back every winter in those first years there, and when I think of that house it is tucked up in a blanket of brilliant white glinting in the winter sun. But inside it was warm and homely. Mum set about decorating it with enthusiasm and great taste, sniffing out bargains in junk shops and auction sales.
She missed the river though, and soon persuaded Dad to buy her a little houseboat moored in a backwater in Windsor, where Elizabeth and I went to school.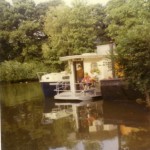 She would spend her afternoons there, catching the odd glimpse of Michael Caine in his garden just opposite and then take us kids back to Ascot, often with five or six friends, plus the dog, all jammed into the Ford break she used to drive at the time. The 70's were more troubled times, with terrorism and economic crisis just like now, but you wouldn't have known it in our home : we felt warm and safe and loved. And that was the foundation of who we are, the springboard we used to take off into the world, Elizabeth to Ascot and Windsor, me to Cambridge and Paris.
After we'd both left school, and Michael Caine had sold his house to the guitarist in Led Zeppelin, the houseboat in Windsor was replaced by a flat looking out onto the oyster pond and the sea front at Littlehampton, which eventually made way for the bungalow at West Beach, Selsey. Mum and Dad were finally made on offer they couldn't refuse for Swinley Birches and they made a new home at the Baredown, which I associate with my children's childhood : long summer days in and out of the pool and sunbathing on the terrace.
In all these places – Queensmead, Swinley Birches, the Baredown, the houseboat, Littlehampton, Selsey – however much time we spent there, we were always made to feel at home. They were furnished and decorated with care and taste but they were never designer homes or museums, they were for living in, with just enough mess to make everyone feel comfortable. And most of all they were infused with Mum's love.
Throughout my life my mother's love has been a given – given freely, with no ego or neurosis involved, and nothing asked in return. I have gradually come to realise that not everyone has such luck.
And now she has gone, that gift of love lives on – in Dad, in me, in Elizabeth, in all those she loved, and in all those that we in turn love, and if we remain true to that spirit, it will go on and on forever. And that is how my mother has changed the world – quietly, discreetly, and without any fuss.